-31%
Smart Scuba Phone Case HotDive H2 Pro with Camera Lens Kit and Video light Kit Fully upgraded
HotDive H2 Pro * 1
Camera Lens Kit * 1
VL20 2000 Lumen Video Light * 1
UT10 UW Camera Tray * 1
HDZ06 Aluminum alloy ball joint clamp * 1
73 in stock
Description
Scuba Phone Case HotDive. Your Favorite Diving Gear
Turn your smartphone into a professional underwater camera with fill light and an advanced dive computer. And that's just to start.
Scuba Diving gear is expensive. Buying a diving computer, waterproof case, and underwater fill light is costly. It's also a hassle carrying all that gear and diving with it.
HotDive Smart Scuba Phone Case takes your extra gear and puts it in an advanced, durable and depth tested phone case. It turns your smartphone into an all-in-one dive kit, acting as a dive computer, a fill light, camera and so much more. And with a built-in air vacuum system you can bring your phone to depths as low as 80m. HotDive offers deep savings (money, time, space, and weight) while letting you explore and capture the beauty of the underwater world.
800% funded on Kickstart with 750+ backers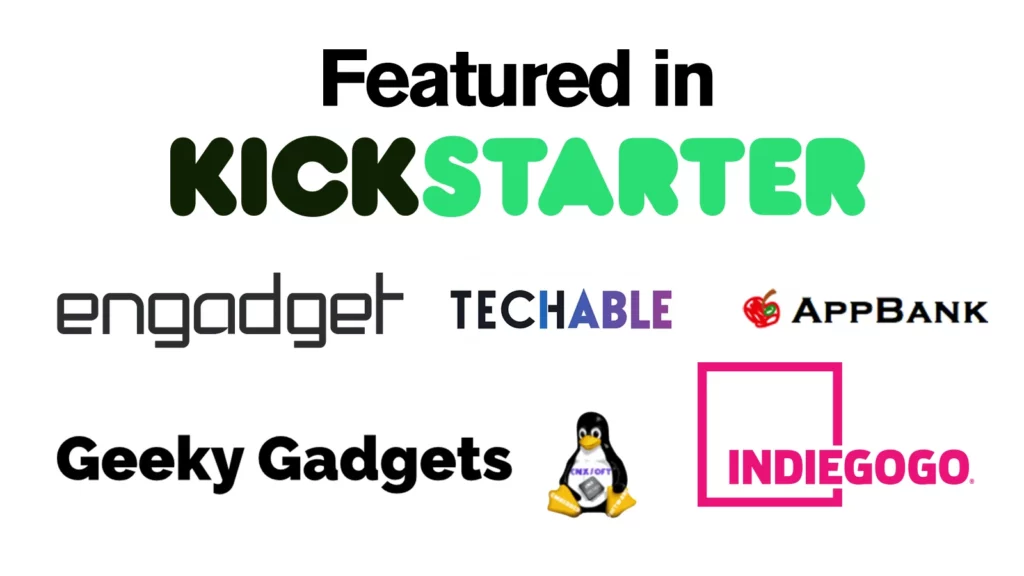 Take crystal clear, professional photos of your deep dives with HotDive Smart Scuba Phone Case.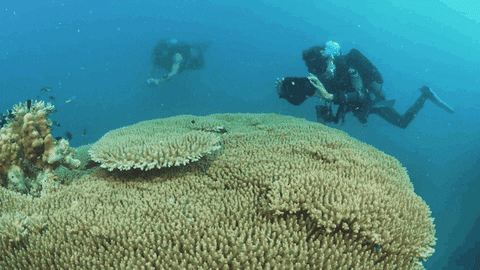 Smart Automatic Air Pump System
Enjoy no foggy or blurry images! Taking a clear photo at depth isn't easy. Hot plugs and desiccants can help, but they don't actually create the optimal vacuum. HotDive's case uses an independent auto-pump air extraction system creating a perfect vacuum for your smartphone.
This means that every photo or video you take will be crystal clear without any fear of fog obscuring the wonders of the sea!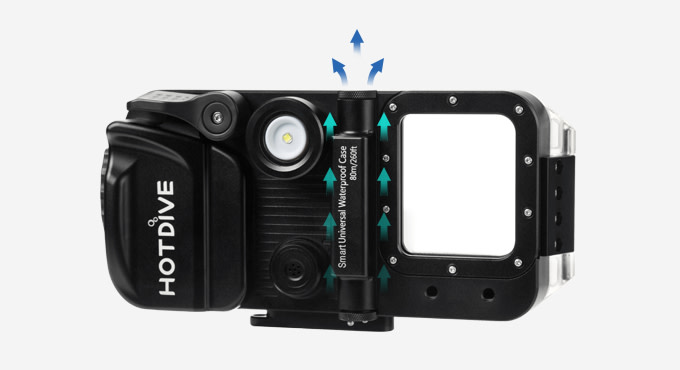 Take crystal clear photos at any depth without fear of fog
Powerful Fill Light For Any Depth
The deeper your dives, the less light there is. Meaning if you want to see the wonders hiding under the waves you need to bring light. HotDive is equipped with a powerful fill light to create optimal conditions for your photos.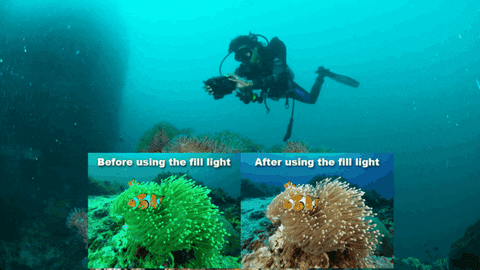 High Range Color Capture
HotDive is perfect for underwater photos or even night diving. Using American CREE LED lights with 130°illuminance and 5800-6500K (closest to the sun's rays) color temperature, HotDive creates the perfect lighting conditions for photos and videos. This effect brings the true color of the underwater world to life, as it offers 800 Lumens of intense light.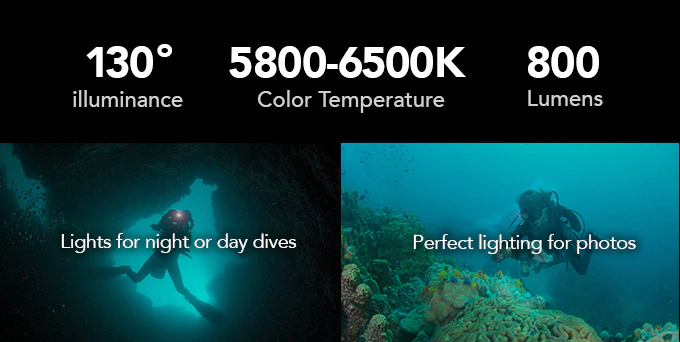 Built-In Dive Computer
Dive computers are a key piece of safety equipment for all divers. They help prevent DCS by measuring depth, dive duration, and ascending speed. The HotDive Pro Smart Scuba Phone Case, the advanced version of the HotDive, uses a built-in computer that acts as an all-in-one solution.

HotDive Pro's computer uses a Nordic Semiconductor ultra-low power consumption (ULP) wireless chip for fast processing speed and in-depth monitoring. Its high capability is made better with low power consumption and a stronger signal to ensure a smooth connection to your smartphone. HotDive Pro also uses a Swiss TE MS5083 depth sensor to monitor real-time depth, calculate ascent speed, and issue warnings. And it also has a built-in compass, so you always know which direction you're diving in.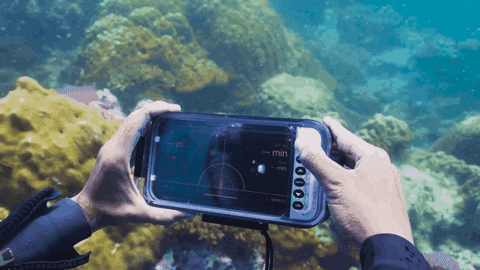 HotDive Smart Scuba Phone Case Keeps You Safe
Thanks to an advanced dive computer, HotDive Pro smart scuba phone case is made with your safety in mind. It calculates depth and time spent diving so it can inform you when the safety stop required.
When it detects that the depth stress has reached 5 meters it will sound an alarm by vibrating to remind you to stay underwater for 3 minutes before ascending to the surface.
 
1-Click Photos
Taking photos with HotDive is simple and easy. Using professional software designed for underwater environments, HotDive lets you take photos or videos, switch between the front and rear cameras with the press of one button.
You can even preview your photos and videos with just 1 click!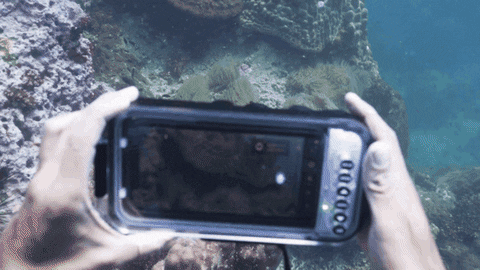 Scuba Diving Modes & Freediving Mode
The HotDive App works with the HotDive Pro smart scuba phone case and can be set to two modes: scuba diving and freediving. These modes are only available on the HotDive Pro due to its built-in dive computer.
Scuba diving mode is able to show real-time depth, maximum depth,  current temperature, and current diving time. It also allows you to set a maximum depth vibration reminder, maximum diving time vibration reminder, and vibration reminder when the ascent speed is too fast. This function is very helpful for both first-time divers and professional divers.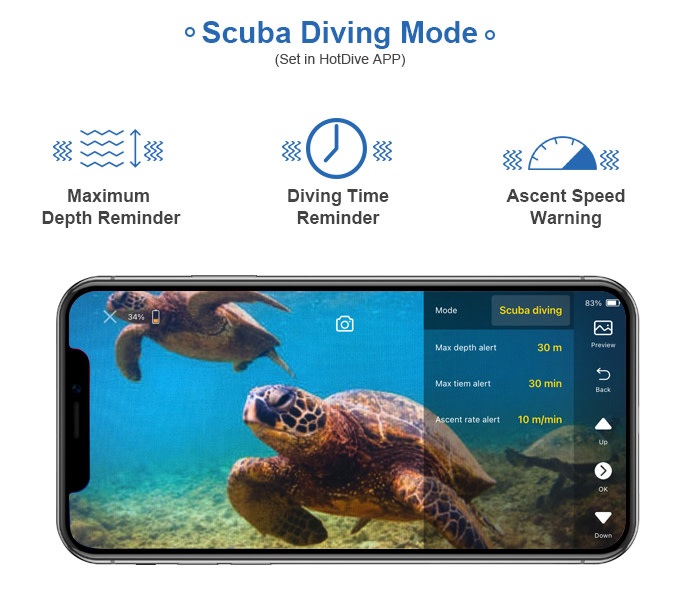 Freediving mode can set 5 different depth vibration and surface time vibration reminders.
Thanks to the exclusive sturdy design, you can use HotDive for both snorkeling(0-10m) and freediving(10m-80m). The real-time depth and dive time displayed on the screen allows you to take photos & videos while knowing how deep you are and how long your current dive time is.
Thanks to the built-in 800 lumens fill light HotDive allows you to do a quick snorkeling night dive near your beach resort before sleeping. Isn't it nice to post some octopus photos and wake up with a lot of likes on your social media channel?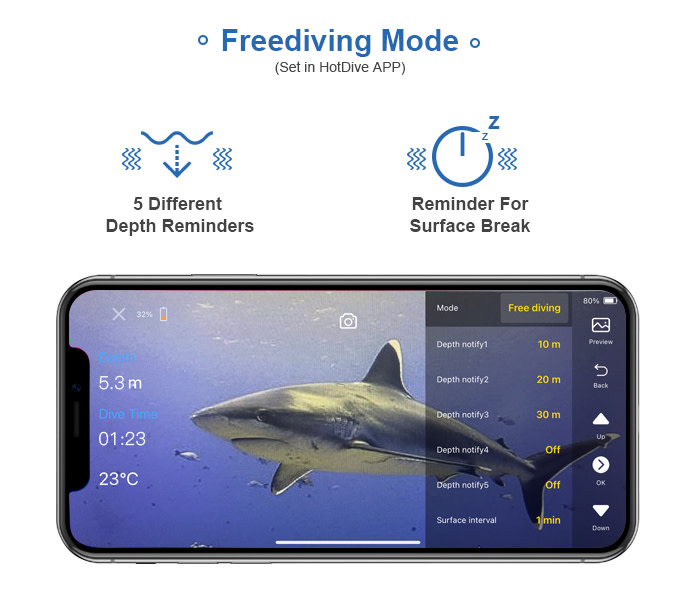 Real-Time Dive Syncing
See your photos in real-time
Log your dives
Share your journey
HotDive's app lets you log your dives automatically by connecting to your phone and auto-syncing your photos and videos. It lets you view real-time results and even share your diving status at any time!
The photos & videos are actually stored in your smartphone instead of the HotDive. This can save you a lot of time to enjoy your dives.
3500ma Battery That Lasts Your Entire Dive
HotDive powers your dives with a powerful battery. It offers you 15-20 days of power without using the fill light and 100 minutes of continuous power while using the fill light. You don't need to bother charging it all the time!

What People Are Saying About HotDive Smart Scuba Phone Case
For more video like this, please subscribe our Youtube Channel Hotdive Global
More questions about our hotdive smartphone waterproof case, please check our FAQ page.
Additional information
| | |
| --- | --- |
| Weight | 1.2 kg |
| Dimensions | 26.1 × 15.7 × 10 cm |
Specification
HotDive Works With Your Favorite Devices
HotDive is compatible with every iPhone and Android phone – as long as the size is smaller than 168mm(6.6inch) x 84mm(3.3inch)(exclude the smartphones with pop-up camera ) and has Bluetooth. (HotDive controls your phone via iPhone or Android apps)
Even if you change your phone regularly, HotDive will always be a good buddy with your new phones. This will save you tremendous money and hassle.
For more detail device check below link:
If you are unable to use the HotDive app on your smartphone (or if it's incompatible) please email us and our team will assist you and we will update the app.
Tech Specs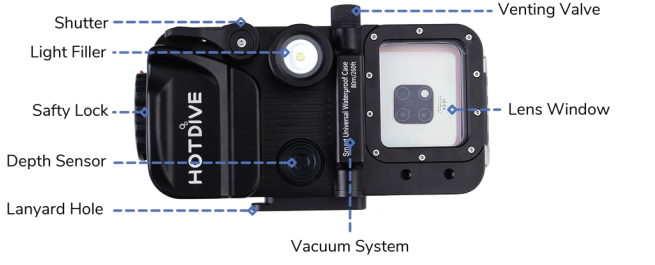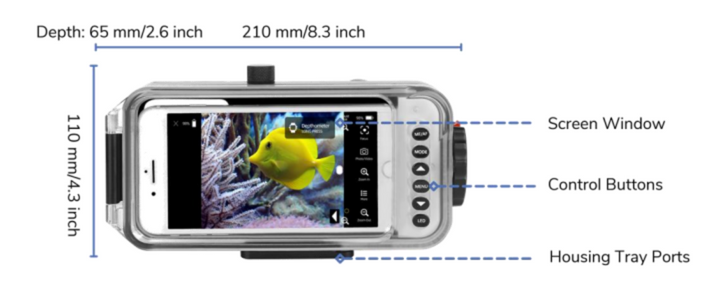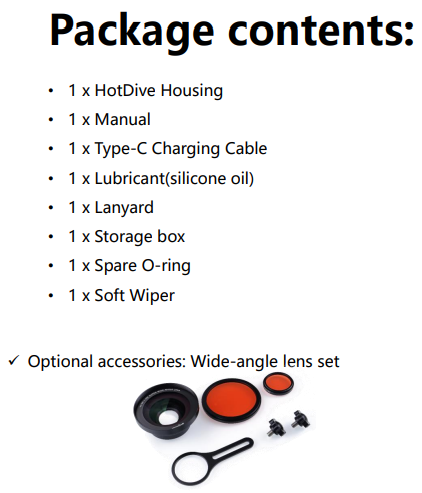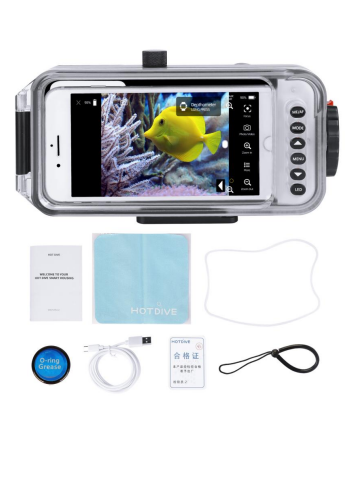 Package weight: 1.2 kg
Package dimension: 261mm x 157mm x 100mm
Manufacturing
How is HotDive made?
Standard Air Pressure Test Procedure for every device(Why should you trust Hotdive?)
Standard Water Pressure Test Procedure for every device (Why should you trust Hotdive?)
Check our youtube channel Hotdive Global for full version video
Given the special study design and material, we have the lowest return/repair rate in scuba phone case industry, check here to see our warranty policy.
Instruction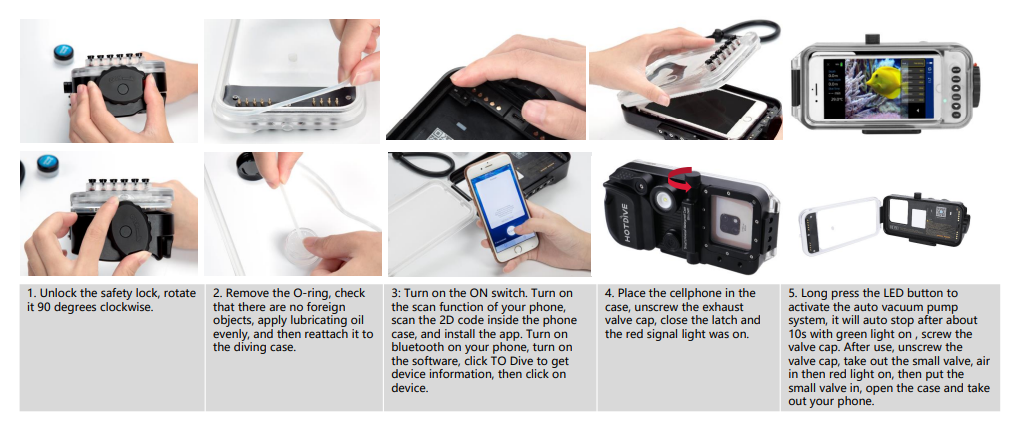 How to set up Hotdive Scuba Phone Case?
Download HotDive H2/H2 Pro user manual for more information.